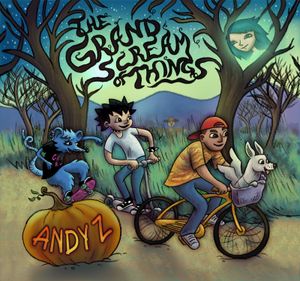 And just in time for Halloween! Take the kids to explore what is considered by many in the industry to be my best audio play album. It is for young kids and tweeners as well, which is why it is described as a Hallow"tween" audio play packed with engaging songs and captivating characters that portray a Halloween adventure about a witch who's lost her way and a boy who discovers his.

And on a personal note: "The Grand Scream Of Things" was the most ambitious and challenging story and project I ever took on, but the fact that it is still a favorite among fans and critics alike make it well worth the work. Labor of love?
Yes indeed!

Visit the official album site by clicking here, within andyz.com by going to "MUSIC" and "THEGRANDSCREAMOFTHINGS" in the pulldown menu at the top of this page, or just by entering in your browser "thegrandscreamofthings.com. Once there have fun watching, listening and experiencing this uniquely fun and engaging musical story for the whole family!